Sigrid, also known as Princess Sigrid, is a supporting character featured on The Hobbit. She is an original character and is not original to the book of the same name. She is portrayed by Peggy Nesbitt.
Concept and creation
Edit
Shortly after her father, James Nesbitt was announced to portray Bofur, Peggy Nesbitt was later announced to portray Sigrid, daughter of Bard. Later, her sister Mary was cast to portray Tilda, another daughter of Bard. Before the film was released, Sigrid was the name of Bard's wife and they had one son and a daughter named Tilda. However, upon Luke Evans' request, Sigrid was instead chosen to be his daughter.
Sigrid was also created for The Hobbit film trilogy for the lack of female characters in the original novel.
The Hobbit
Edit
Sigrid first appears in the second film of the trilogy.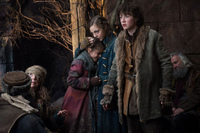 Behind the Scenes
Edit